Rather than put out a ton of posts, we're just going to combine all this info into one action-packed and exciting article! Rejoice, for we give you, in no particular order, this year's skinny on some of the places to see fireworks this long weekend:
Washington D.C. – July 4
Like every year, well except for those weird ones a few years ago, DC will be launching a massive amount of fireworks. If you are stuck on land, the best viewing would be on the National Mall. However if you are cool and want to see it by boat, there's some things you need to be aware of.

The good news is that this year will be much like last year, in that you will want to boat on over to the stretch of river between the Arlington Memorial Bridge and the 14th Street Bridge, to get a view of the fireworks show that is second to none. The show starts around 9PM, but you better get there way early!
As always, there will be special watercraft restrictions that day. There will be zones designated for anchorage, and other zones in which you will not be allowed to anchor. In the past, people were not allowed to anchor between the Theodore Roosevelt Bridge and the Arlington Memorial Bridge. It's unclear whether this restriction will be in effect this year, but it probably will. This map was just confirmed (like 5 minutes ago) from the MPD's Harbor Patrol Unit: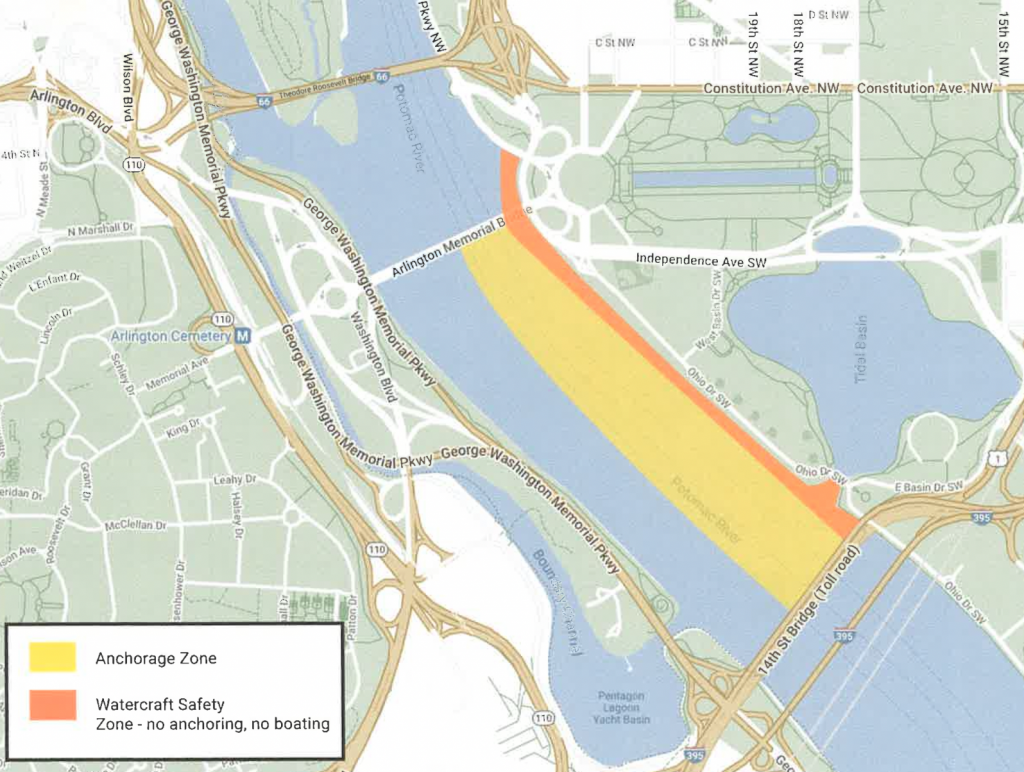 Like last year, overnight anchoring is allowed but you need to be gone by 9AM July 5th.
Mount Vernon – June 30 & July 1
Another cool place to watch fireworks is at George's old house! Mount Vernon will be doing 2 shows this year – June 30 and July 1. Both shows will start around 9PM. Most folks will just pull their boats to the Virginia side, anchor, and watch the show. Steer clear of the danger areas around the barge. If you don't know how to approach Mount Vernon, just watch this lovely informative video!
Alexandria – July 8
Well, it's not on the 4th of July, but Alexandria will be celebrating their birthday on July 8 this year around 9PM, and we expect this will be a big show with tons of entertainment. Bring your boat to the Alexandria City Marina and stay the night! You can reach them at 703-746-5487, or just hail them on VHF 16!
Colonial Beach Town – July 3
These guys always put on a good show, and this year will be no different. This weekend's show will be on July 3 at dark, and it can be seen from most of the marinas there. From their website:
Our nation's birthday. A time for celebration and patriotism. What better way to spend it than coming to Colonial Beach (which is in the greater Washington, D.C. metro area, after all!) and enjoying a fun and fabulous Fourth with friends, family, fireworks and festivities?
Can't argue with that! You can get all the details HERE.
Colonial Beach – Dockside Restaurant – July 1 (unconfirmed)
One of the coolest places to be in Colonial Beach is the Dockside Restaurant and Tiki Bar. This is located just at the mouth of Monroe Bay, right next to Colonial Beach Yacht Center. They also will be having some awesome live music, so pull yourself up to the bar, grab your favorite boozy cocktail, and enjoy the show!
There's a 100% chance we are missing other locations, so if you know of a show happening this weekend, hit us up on Facebook and let us know!