If you've ever taken your boat to the DC Wharf, you'll recall just how narrow the channel is in some places. The channel varies in width from 275 to 330 meters. With everything from kayakers, water taxis, to massive cruise ships traversing that channel, it's easy to see how congested it can already be.
Now the Army, in its infinite wisdom, is proposing the implementation of a Restricted Zone along the shore of Fort McNair. This new Restricted Zone would be as wide as 150 meters (that's half of the existing channel!) from P Street SW (near the Titanic Memorial) down to B Street, and then slowly shrink down to a paltry 75 meters below that.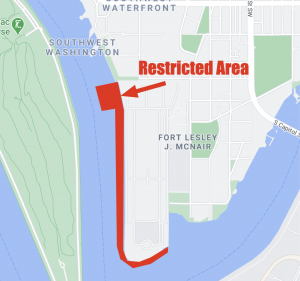 All persons, vessels, or other craft would be prohibited from anchoring, mooring or loitering within the Restricted Zone without the permission of the Commander, Joint Base Myer Henderson Hall/Fort McNair or his/her designated representatives. In the zone, watercraft could pass by but would be "prohibited from anchoring, mooring or loitering."
That doesn't sound too horrible until you realize that they intend on placing buoys marking the zone, which will no doubt discourage boaters from going anywhere near it! What this means is that roughly 430 boats, cruise ships, water taxis, and kayakers will be forced to share 150 meters of an already crowded channel as they make their way to and from The Wharf! Does anyone see anything dangerous about this?
What you can do:
Eleanor Holmes Norton's district office is hosting a public forum with the U.S. Army and the U.S. Army Corps of Engineers to discuss the Washington Channel waterways and the proposed rule to restrict the waterway.
Date: Wednesday, January 27, 2021
Time: 6:00PM
Location: Zoom Conference Call
Visit her website here and/or email norton.events@mail.house.gov to RSVP for this event. Join the call and let them know what you think.
Got some juicy bits of news or other info that you want to share? Contact us!